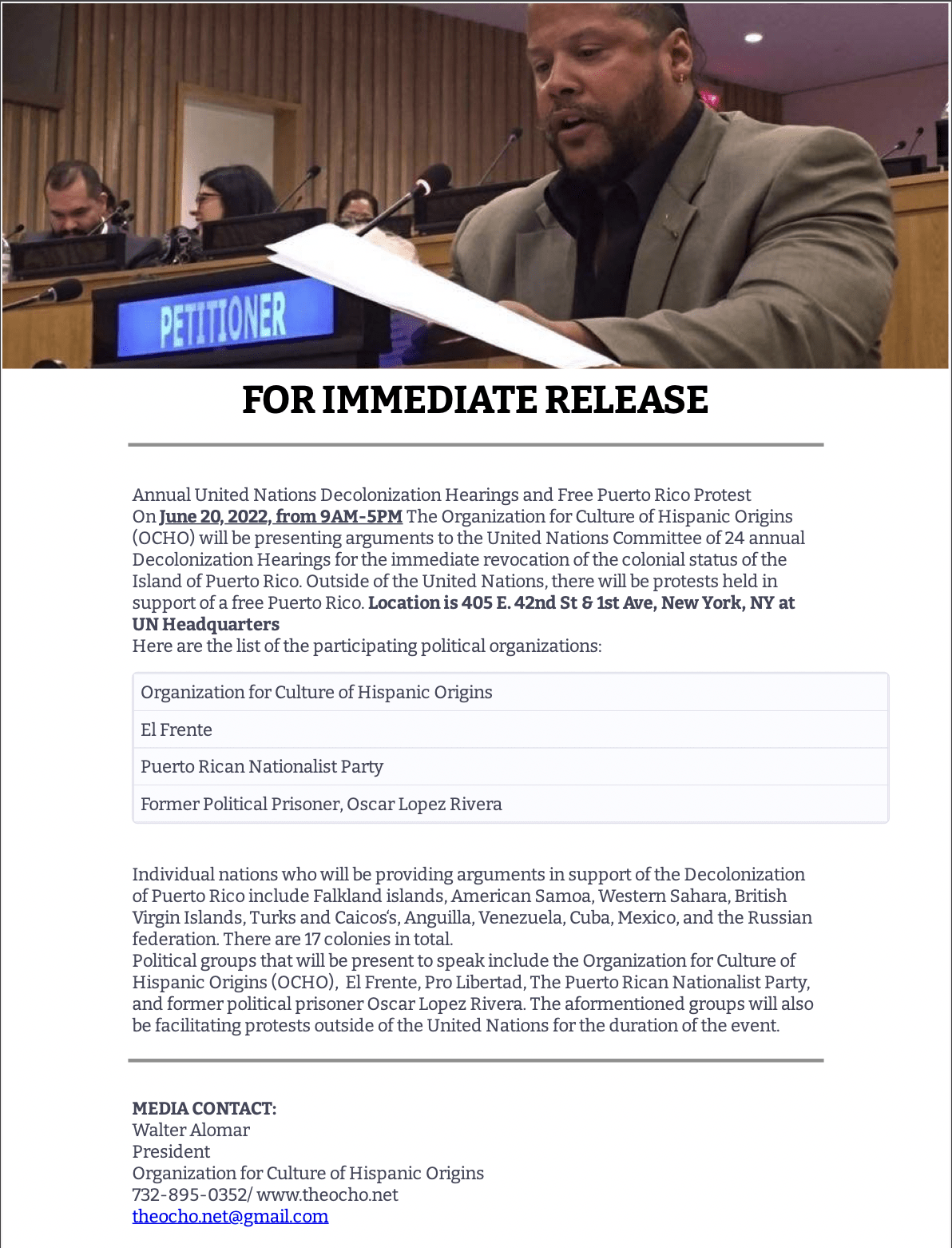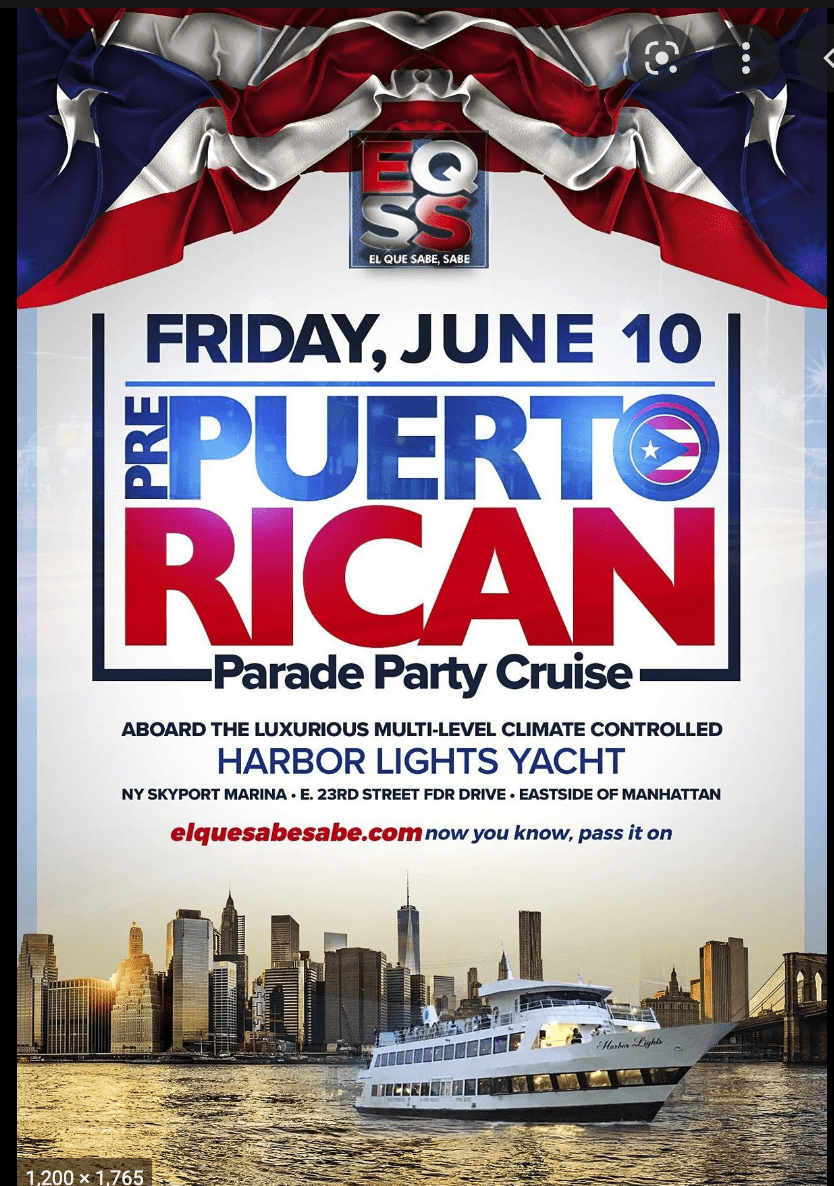 Fri, Jun 10, 10:00 PM – Sat, Jun 11, 2:30 AM
2430 FDR Dr, New York, NY
Friday June 10th is the official Pre Puerto Rican Day Party Cruise on the harbor lights yacht. Spectacular & luxurious multi level 145 foot yacht (3 decks with 2 enclosed with A.C. and 1 open air promenade)
3 Levels & 3 DJ's -Mixing Top 40 Dance, Salsa, Merengue, Bachata, Hip-hop/R&B, House, Freestyle and 4 decades of dance club and pop classics. (Featuring 3 local superstar DJ's)
Food available on board- Boat boards at 6:00PM and the boat sets sail at 7:30PM. Boat sails rain or shine. 21 & over-Photo ID required with advanced ticket.
Advance tickets are $30 dollars. Tickets sell fast! Don't wait until the last minute and there are limited tickets available. Buy your tickets now.
For more info call Jerry at 718-219-8014. Celebrating a Birthday Contact Us!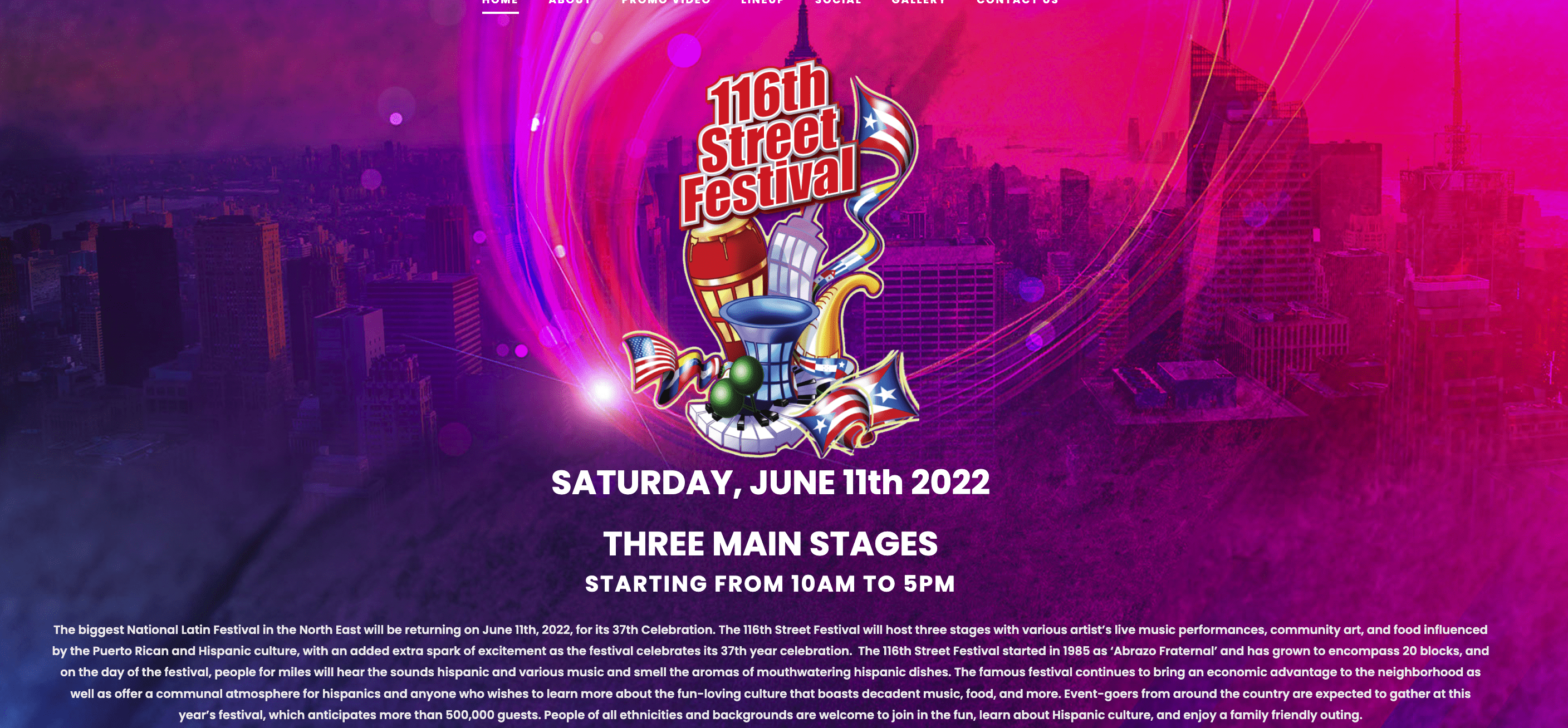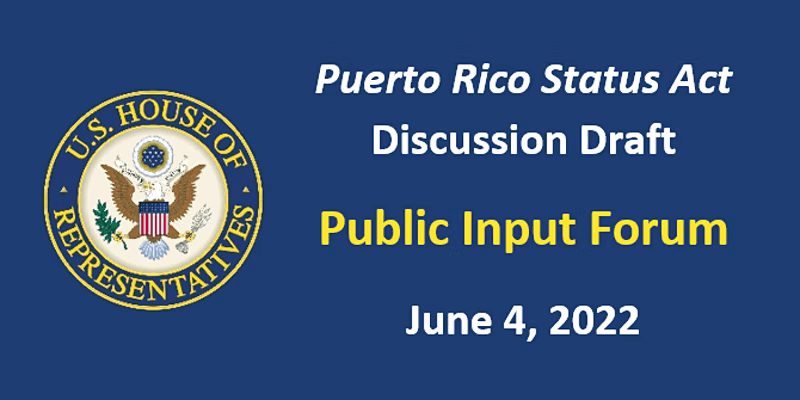 About this event
Natural Resources Committee Chair Raúl M. Grijalva and a bipartisan group of Members of Congress, including Rep. Nydia Velázquez and Resident Commissioner Jenniffer González-Colón, will visit Puerto Rico to seek input from members of the public on the Puerto Rico Status Act Discussion Draft. 
This Public Input Forum is an opportunity for residents of Puerto Rico to speak directly with federal lawmakers about the Discussion Draft. Residents will have two options for registration:
(1) General Admittance - Individuals who register for general admission are welcome to attend the forum as a non-speaking audience member. These spaces will be available until an hour prior to the event or until capacity is reached.
(2) Speaker - Limited spaces are available to residents to participate as a panelist to provide comments on the discussion draft. Those recognized to speak will be limited to 5 minutes to share their comments with the delegation. Members of the delegation may request additional information from speakers. Speakers must be registered prior to the event and will be called on a first come, first served basis.
NATIONAL PUERTO RICAN DAY PARADE ANNOUNCES PLANS FOR A BIG COMEBACK TO FIFTH AVENUE
NPRDP celebrates its 65th Anniversary
Join us on Sunday, June 12th at 11 AM EST for the 65th National Puerto Rican Day Parade (NPRDP)! In this yearly in-person event, the NPRDP will highlight Puerto Rican culture, achievements and legacy with music, dance and colorful displays of cultural pride before an estimated 1.5 million spectators. After a mandatory two-year hiatus due to COVID-19, the NPRDP Board of Directors is thrilled to announce its big return to New York City's Fifth Avenue. The 2022 parade is dedicated to the municipality of Cidra, Puerto Rico, which is known as Pueblo de la Eterna Primavera (Town of the Eternal Spring) as well as the Greater Philadelphia Area, which is home to over 250,000 Puerto Ricans statewide. The NPRDP serves to unite approximately 8 million Puerto Ricans living across the 50 states and Puerto Rico in cultural pride and tradition, and we're so excited to join them this year! This event will be taking place on Fifth avenue and spans from 43rd Street to 79th Street, be sure to keep an eye out for us, as we'll be marching alongside our fellow Puerto Ricans in the parade.
Join us on Saturday, June 11th at 10 AM EST for the 37th annual 116th Street Festival. This in person event will take place on 116th Street and Third Avenue, and will feature live music performances, community art, and food influenced by Puerto Rican and Hispanic culture. The 116th Street Festival started in 1985 as 'Abrazo Fraternal' (brotherly hug) and has grown to encompass 20 blocks. On the day of the festival, people will hear the sounds hispanic and various music and smell the aromas of mouthwatering hispanic dishes for miles. The famous festival continues to bring an economic advantage to the neighborhood as well as offer a communal atmosphere for hispanics and anyone who wishes to learn more about the fun-loving culture that encompasses decadent music, food, and more. We're thrilled to announce that we will be tabling at the festival, so be sure to stop by to learn more about CENTRO and meet some new and familiar faces!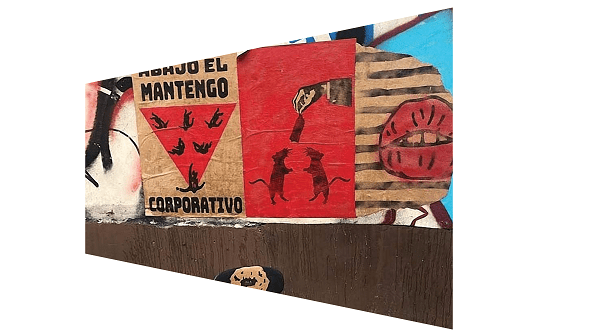 CAFECITO CON... ROCIO ZAMBRANA:COLONIAL DEBTS
June 8th, 2022
4:00 PM EST
Virtual Event
Join us for a Cafecito con... Rocio Zambrana: Colonial Debts on June 8th, 2022 at 4 PM EST. Professor Rocio Zambrana will be in conversation with Dr. Raquel Salaz Rivera in presenting her new book Colonial Debts. Colonial Debts explores neoliberal coloniality out of Puerto Rico's debt crisis and the ways in which debt functions as a way of using race, gender, and class to strengthen colonial ties between Puerto Rico and the U.S. Tune in for the conversation, and be sure to bring your burning questions for a Q&A after the discussion!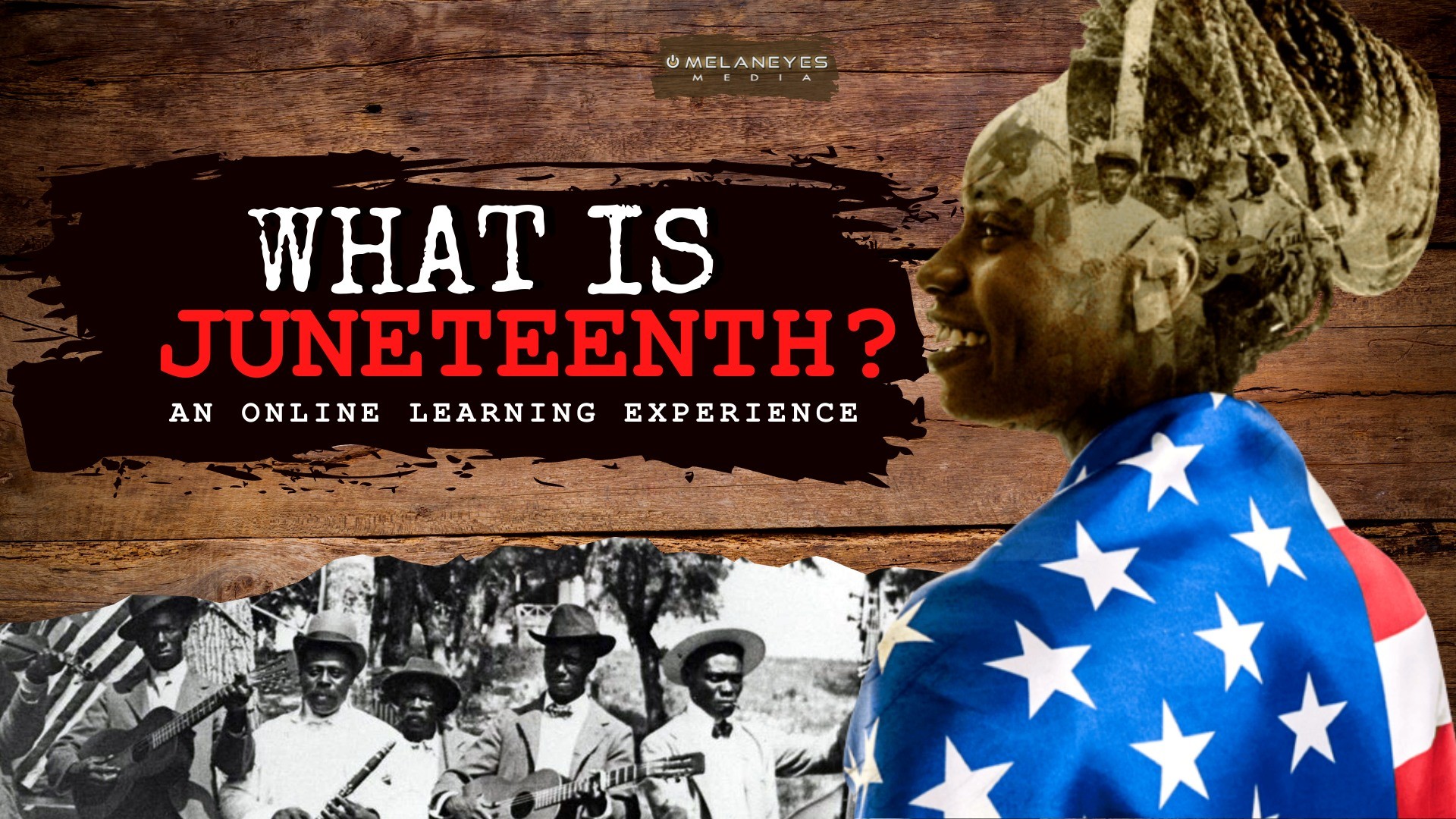 Learn the history of America's newest federal holiday June 19 - Juneteenth, also known as Emancipation Day and Freedom Day.
Join us this year for "What is Juneteenth: An Online Learning Experience." In this virtual class session we will be discussing the history of Emancipation Day as a holiday and how it has been celebrated throughout the years in America.
When President Joe Biden signed legislation in 2021 making June 19 the latest federal holiday; it forever changed the status of a date primarily celebrated by African Americans in the past to now be recognized by all US citizens.
THE PRESENTATION
There are plenty of details that are often overlooked that can help us better understand the process of Emancipation. It did not happen over night. In the special presentation we will cover information including:
-The History of the Emancipation Proclamation
-Details of General Order #3
-The 13th Amendment
-How the Holiday has been celebrated ... and more
This online experience is very interactive and includes:
-2 pop quizzes
-Rare footage of Celebrations from the early 1900's
-Interviews from esteemed scholars ... and more
We are hosting this event multiple times throughout the month of June to ensure that those who are interested have ample opportunities to learn and participate.
COST
**The price of this event? You choose what its worth to you. We are using the honor system for this online screening, so you are able to pay what you would like - $5, $10 or $100 it is totally up to you.
ONLINE VIEWING
The presentation will take place online using the ZOOM platform.
Once you've purchase your ticket, you will be sent an email with a link to the event.
**On the day of the event you will be emailed a reminder with the time date and private link.
After the presentation is completed, we will host a live Q&A session with the the owners of Melaneyes Media Aundar Ma'at and Born Logic Allah, where you will have the opportunity to ask questions and post comments.
For inquiries and sponsorship opportunities, email us at:
melaneyes3@gmail.com
Tuesday 7 June 2022
2pm (New York) | 7pm (London) | 7pm (Lagos)
Anthropologists hold that there is a direct link between a community's conception of time and how they see the physical and social worlds around them.
So what is the African conception of time? Does it affect how Africans view the world and social relationships and therefore should it affect how we study, write, and teach African history?
In this lecture and conversation, we will explore the African conception of time; its grounding in cosmological, religious, mythical, and social time; how it has been affected by interactions with non-African conceptions of time, and what this all means for African history.
Join us for what promises to be an engaging and insightful saunter through this key area of enquiry in the philosophy of history.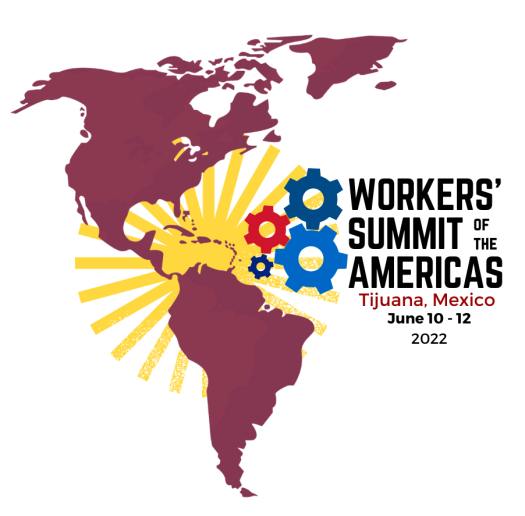 THE WORKERS' SUMMIT OF THE AMERICAS – TIJUANA June 10-12, 2022, is a Worker's Conference which calls for the programmatic unity of the working class and social movements to create a permanent forum for solidarity and the linking of anti-imperialist, anti-colonial and anti-patriarchal struggles in the American continent.
During this summit, you will be part of discussions about the economic sanctions of U.S. Imperialism and its partners in the European Union against Venezuela, Cuba and Nicaragua; growing poverty; unemployment and job insecurity; violence against trade unionists and social activists; gender violence, sexual and cultural diversity; structural racism and violence against indigenous, native and Afro-descendant peoples; the criminalization of migration; among others.
Website(s): workerssummit.org
For endorsement, participation, or additional information in the Summit contact: info@workerssummit.com
Donate here: https://afgj.salsalabs.org/WorkersSummit/index.html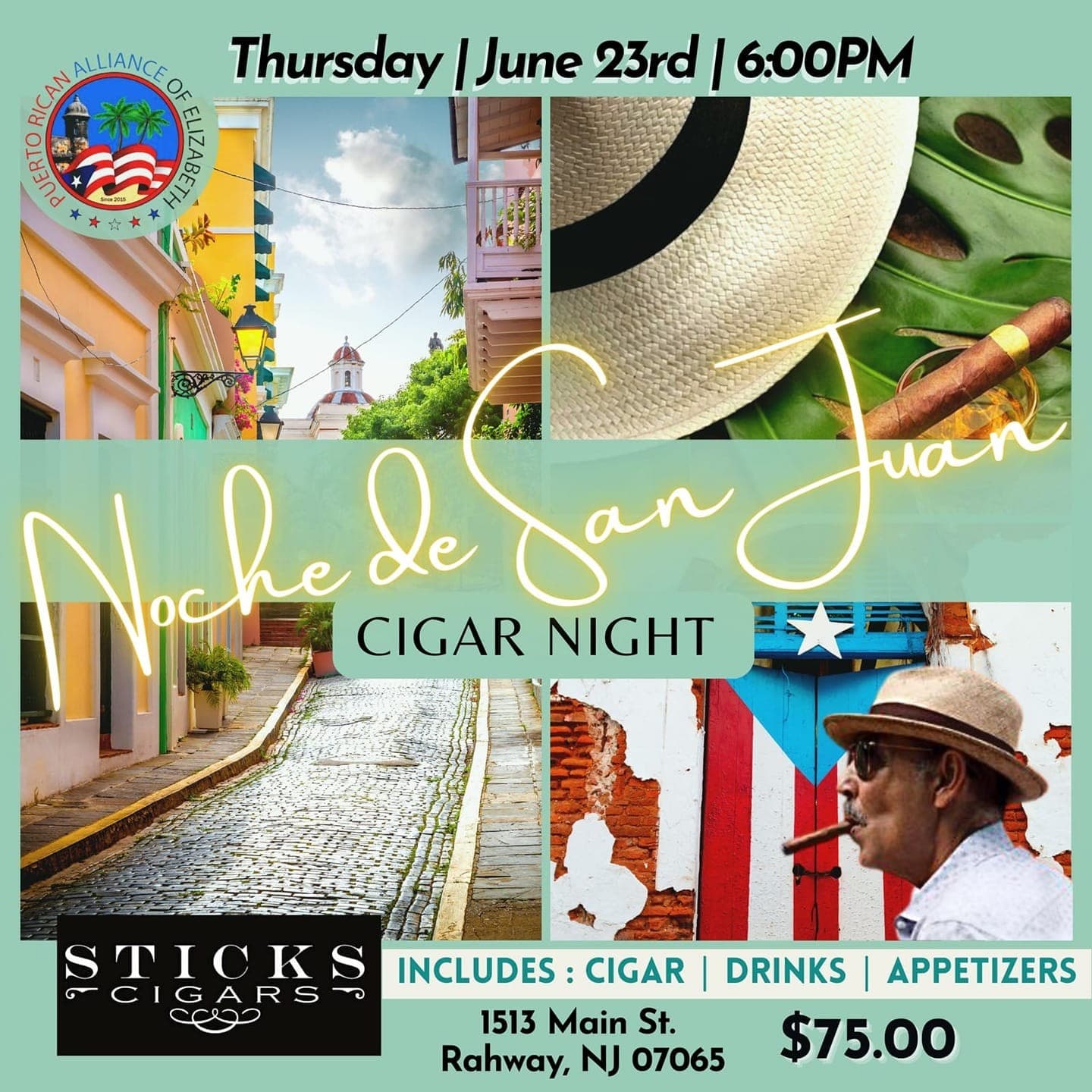 Come out and celebrate Noche de San Juan with a nice Cigar. 🇵🇷
This event takes place on Thursday, June 23rd @stickscigarsnj 6pm.
Payments are accepted via Venmo @PRAE- Elizabeth account 4 digits 5214. We will also receive cash and checks